MAYO MEDIA ADVISORY
For Wednesday Evening
May 18, 2011
"
BERLIN
RUNWAY FASHION
SHOW
"

"
BERLIN
RUNWAY FASHION
SHOW
"

Presented by: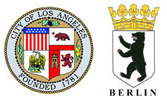 -YOUNG
BERLIN
DESIGNERS -

Trendsetters For Today's Modern, Wearable Fashion
The Los Angeles-Berlin Sister City Committee


MARTINA VOGT of the famous fashion institute "Design am Lette Verein
Berlin
" will
present the following designers:
KAROLINA PREIS -Avant-garde fashion, elegant, young, stylish a la new Berliner Boheme (
more
)
GEORG

LUX

- Very Paris-like, colorful, at times opulent

(.more)




JASMIN ERBAS- Evening couture, classy and sexy

(more)
MONYA WASILEWSKI- Classy, purist look, modern and very wearable

(
more)
When:


Wednesday, May 18, 2011
7:00 PM
(Directions and Parking more)
Background:
This p
roject has been generously supported by the Checkpoint Charlie Foundation,
the German Consulate General of
Los Angeles
, the Senatskanzlei Berlin and
Berlin
Partner GmbH,
Thanks goes out to: GABA, the Goethe Institute and many more sponsors.

Tickets $ 40 ($ 50 at door)
B
uy below with credit card (on website) or at door
.
(If Internet Explorer gives you an error pls. open page in Mozilla or Chrome)
Media Contact:
the
Los Angeles-Berlin Sister City
Committee 626.792.4611, Fax 626.577.1859
email:
board@la-berlin.org
, website
www.la-berlin.org
MAYO PR - "We don't guarantee media, we just get it!"